Ingo Althöfer
Freistil-Schach - Freestyle Chess
Together with my friend Timo Klaustermeyer (new name "Timo Haupt" after his wedding) I invented the concept of Freestyle Chess and also coined the term "Freestyle Chess" back in Summer 2004:
The team captain is resonsible for all actions. He/she may use any help by other humans, computers, books ...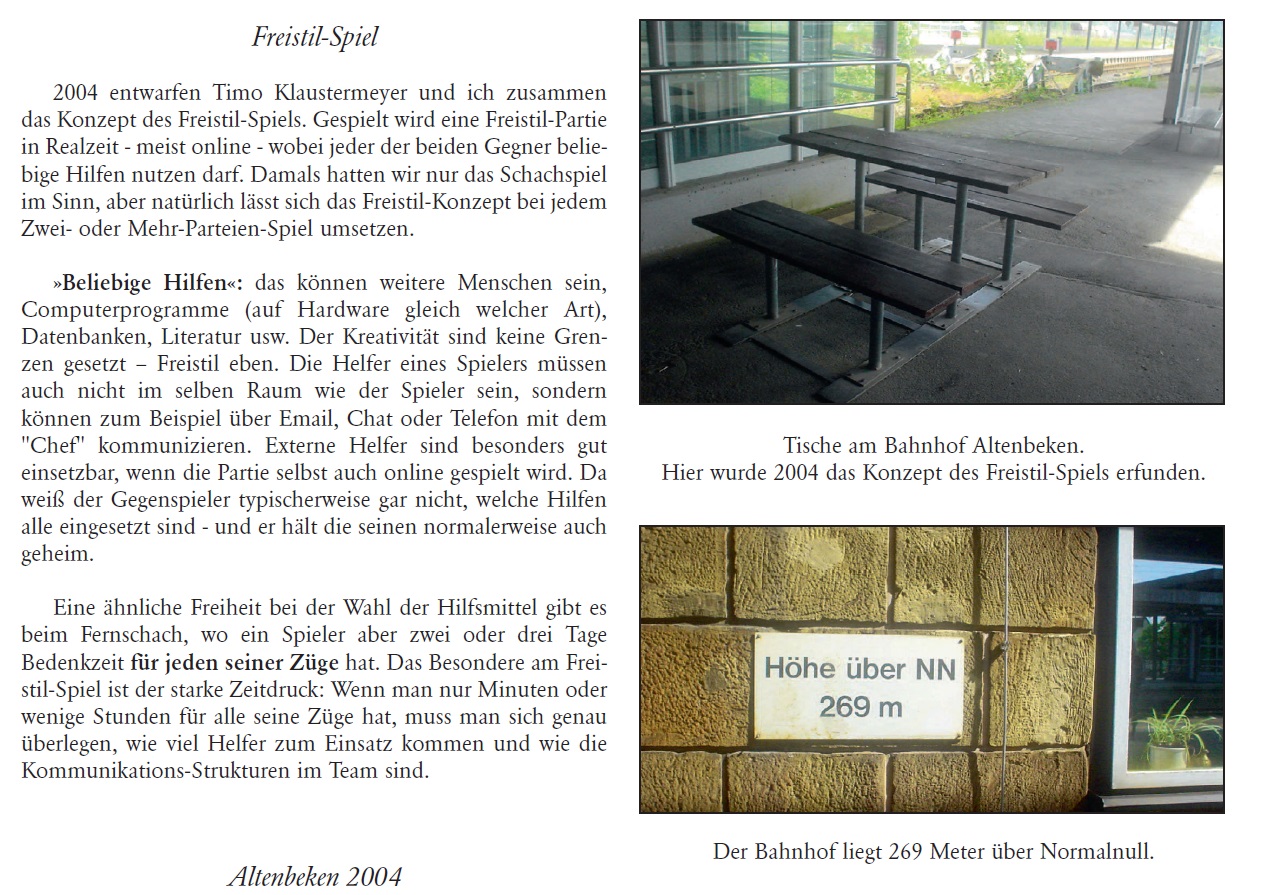 In the meantime, the "Freestyle concept" has been applied to many other games and other scenarios in real-life optimization. The picture is taken from a report in the Operations Research Magazine "OR News", Summer 2019.



Mathe in Abi-Zeitungen und Schüler-Erinnerungen
[Stand 2. Juli 2020]
Fast niemand steht neutral zum Thema "Mathematik in der Schule". In einem mehrjährigen Forschungsprojekt untersuche ich den Aspekt "Mathe in Abi-Zeitungen und verwandten Druckwerken". Hier anklicken



Neues zum 3n+1-Problem
Im Laufe der letzten Jahre habe ich immer mal wieder am 3n+1-Problem von Lothar Collatz getüftelt. Einige meiner Überlegungen sind in einem Artikel - in deutscher Sprache - zusammengefasst.
Zum pdf hier anklicken



Teilbiographie zu Lothar Collatz
Meine Teilbiographie zu Lothar Collatz für den Zeitraum 1933-1950 ist seit September 2019 verfügbar. Details hier.


Combinatorial Space Trajectories
Cycles, Rhythm, and the Origins of Life
Opinion Paper
3-Hirn-Verlag (Kleinverlag für Spiele, Bücher, Kunst)
Dr. Ingo Althöfer
Friedrichstr. 30 A
D-32791 Lage, Germany

Tel
in Deutschland (05232) 929 071
from outside +49-5232-929-071

Email 3-hirn "at" althofer.de



Zur Datenschutz-Erklärung

Haftungshinweis: Trotz sorgfältiger inhaltlicher Kontrolle übernehmen wir keine Haftung für die Inhalte externer Links. Für den Inhalt der verlinkten Seiten sind ausschliesslich deren Betreiber verantwortlich.


Latest Update of this Site: July 22, 2020

Achtung: in etlichen Unterordnern dieser Seite werden Bilder nicht angezeigt!
Das hängt damit zusammen, dass der Server seit Ende 2018 nur noch relative Verlinkungen von Bild-Dateien erkennt, aber nicht absolute. Nach und nach werden die html-Dateien angepasst, aber es dauert halt. Um Geduld wird gebeten.




* * * * * Verschiedene Unterseiten * * * * *
* * * * * Miscellaneous Subsites* * * * *

Several of the following sites are bilingual in German / English or only in English.


John Horton Conway (1937-2020) is one of my big heros in Mathematics. On 11 April, 2020 (Easter Saturday) he died due to a Covid-19 infection. Back in 2015, I had written a review of Siobhan Roberts' fine book on Conway ("Genius at Play") for the ICGA Journal. You find the text (in English) in pdf here: Click

codecentric Freistil-Go-Liga 2018/19

On the Origins of Frisbee Go
Robot Frisbee Go

LEGO bricks in the washing machine

Eigene Musicals und Aufführungen



Directed Panspermia and Titius-Bode
Speculation about a cross connection.