"Kobra" TV Report: LEGO Washing
"Kobra" TV-Bericht: LEGO-Waschen
Ingo Althöfer; December 2014 , Update April 2019
First of all a clarification: "LEGO" is a trademark of the LEGO group in Billund, Denmark. This website is neither sponsored nor authorized nor supported by the LEGO group.
Gleich zu Beginn eine Klarstellung: "LEGO" ist eine Marke der LEGO-Gruppe in Billund, Däemark. Diese Webseite ist von der LEGO-Gruppe weder gesponsert noch autorisiert noch sonstwie unterstützt.
"Kobra" is a weekly magazine in the official Swedish culture TV channel STV. Early in September 2014, Johan von Sydow and his camera man visited me in Lage (Lippe), to make a Kobra-report on "Chance and Creativity". It was a constructive and inspiring meeting in a very friendly atmosphere. Sending date of the report was October 29, 2014 (5min:30sec long). Now it is no longer available online. Therefore, I have put a few nice screenshots with some text on this website.
"Kobra" ist ein wöchentlich ausgestrahltes Magazin im staatlichen schwedischen Kultur-TV-Sender STV. Anfang September 2014 besuchten mich Johan von Sydow und sein Kamera-Mann in Lage (Lippe), um für einen Kobra-Report zum Thema "Zufall und Kreativität" zu drehen. Es war ein anregendes und konstruktives Treffen in einer sehr freundlichen Atmosphäre. Ausgestrahlt wurde der Bericht mit seinen 5m:30s Länge am 29. Oktober 2014. Jetzt kann man ihn nicht mehr online abrufen. Deshalb habe ich auf dieser Seite einige schöne Szenen als Einzelbilder mit etwas Text festgehalten.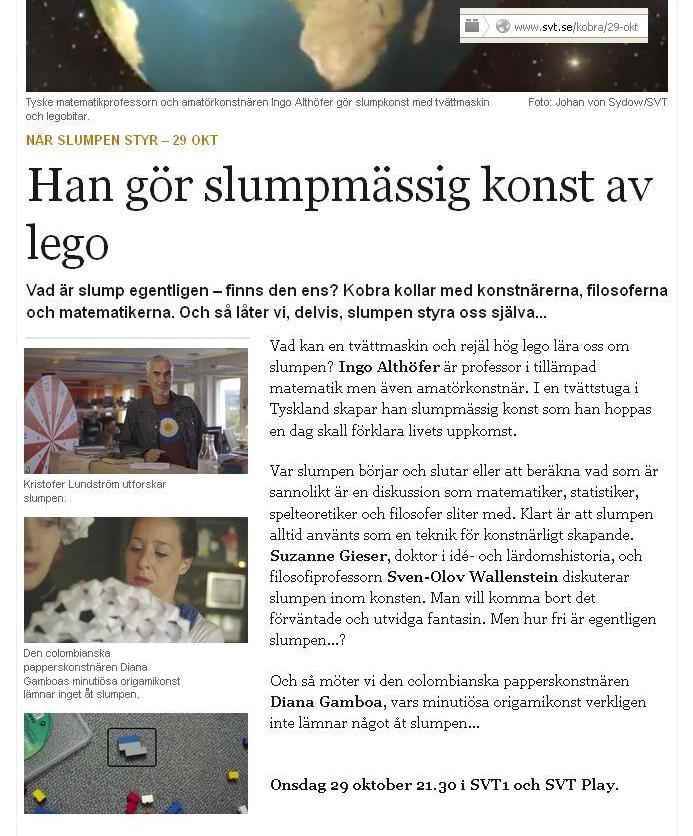 This was the announcement of the report for October 29. Other topics besides LEGO washing included Origami and Philosophy.
So wurde die Sendung am 29. Oktober angekündigt. Es ging nicht nur um LEGO-Waschen, sondern auch um Origami und Philosophie.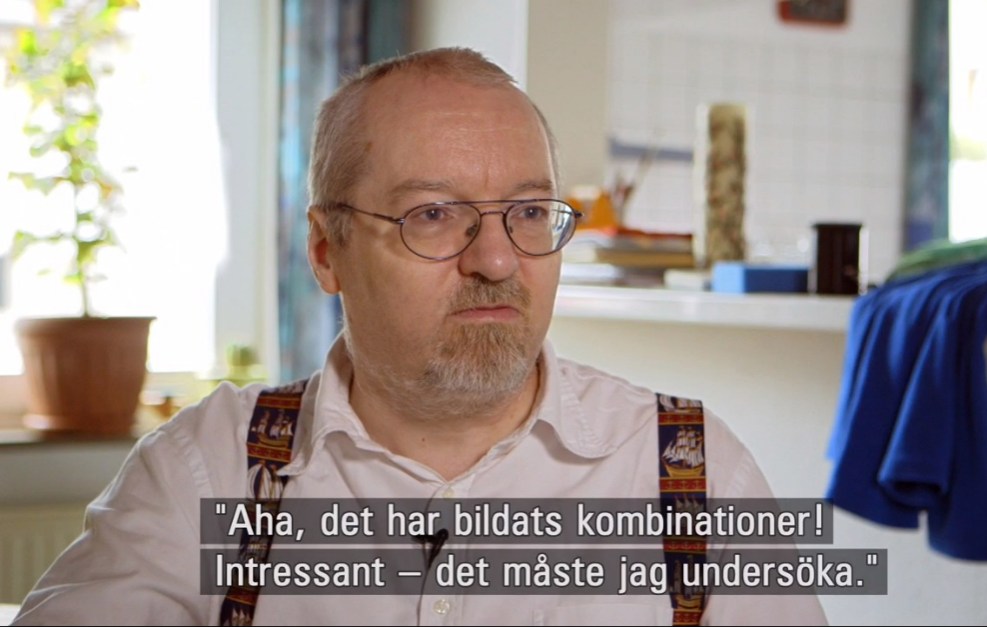 Johan's and my conversation in Lage was in English. In the report, the original English "sound" was to hear, with Swedish subtitles. This way I learned some bits of Swedish language ;-)
Die Unterhaltung in Lage führten Johan und ich auf Englisch. Bei der Ausstrahlung wurde diese auf Englisch gelassen und mit schwedischen Untertiteln versehen. Auf diese Weise habe ich jetzt etwas Schwedisch gelernt.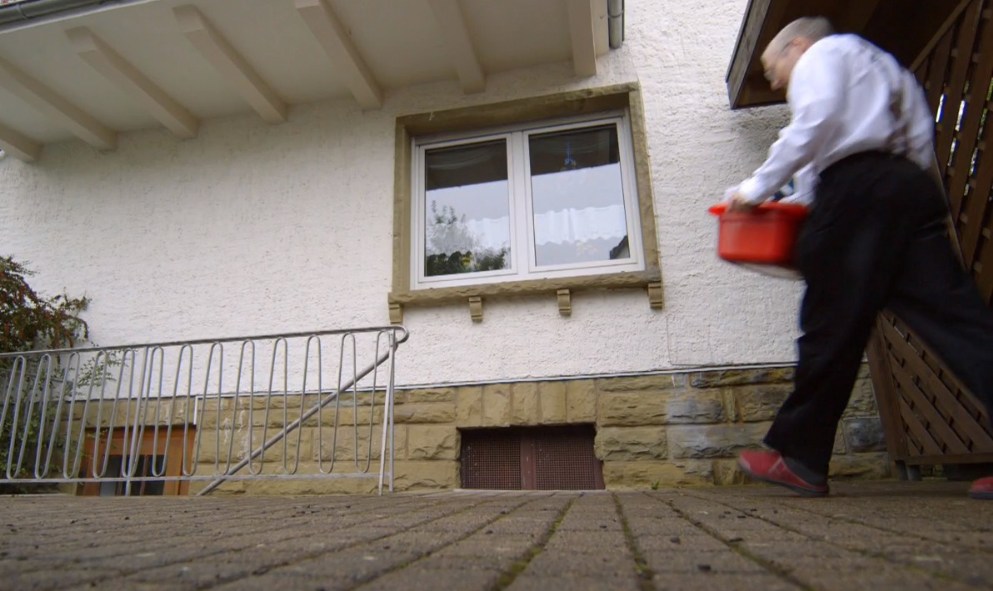 In this scene, I am just on the way to the cellar, where the washing machine is loacted. The knotted sockes with the LEGO bricks are in the red tub, together with normal washing clothes.
In dieser Szene bin ich gerade auf dem Weg in den Keller, wo die Waschmaschine steht. Die zugeknoteten Socken mit den LEGO-Steinen waren in der roten Wanne, zusammen mit normaler Wäsche.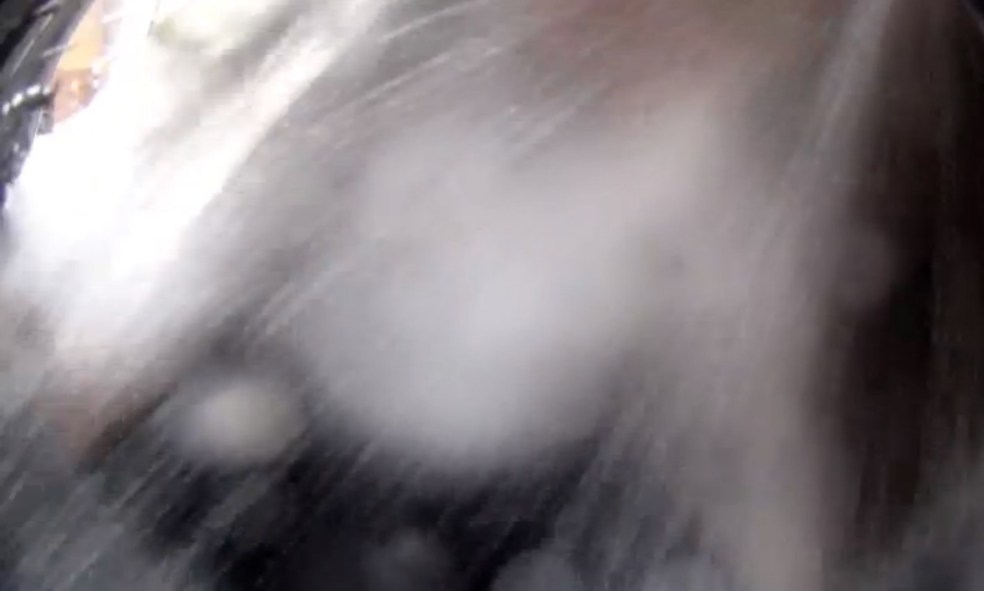 For a short scene the waterproof camera was enclosed in the washing drum. You can see the water shooting in.
Für eine Einstellung wurde die wasserdichte Kamera in der Waschtrommel eingeschlossen. Zuerst sah man das Waschwasser einschiessen.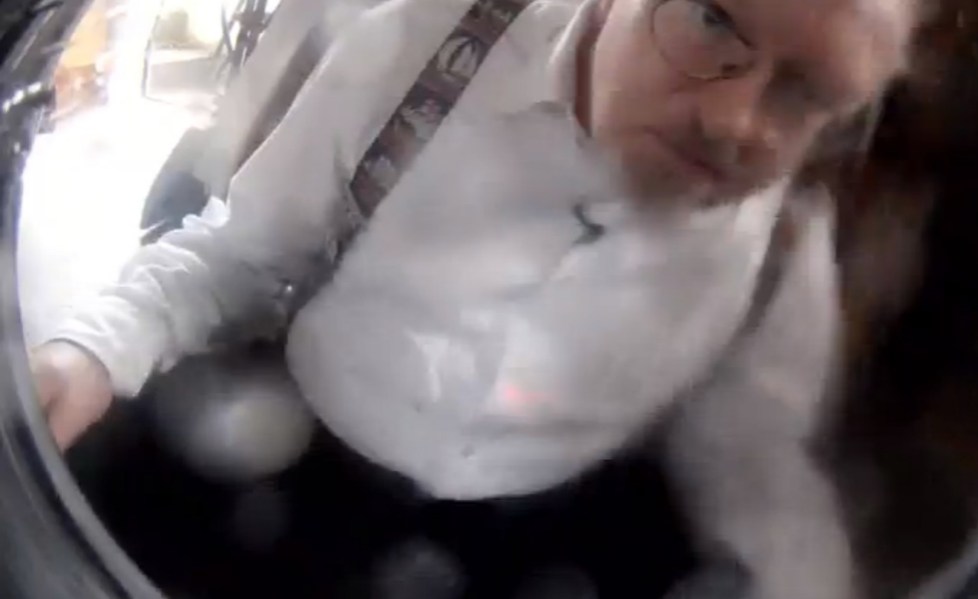 Then my face occured on the other side of the bull's eye.
Danach war mein Gesicht auf der anderen Seite des Bullauges zu erkennen.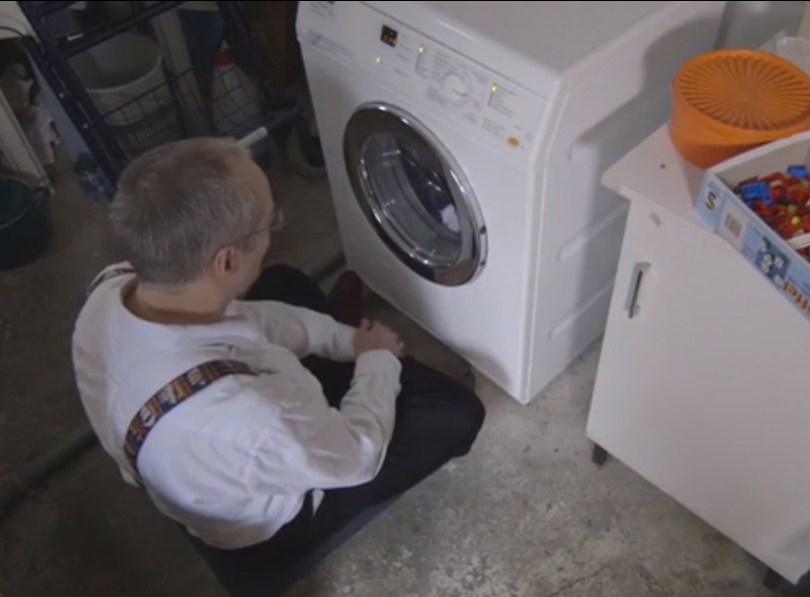 My typical sitting position: like a traditional tailor in front of the spinning drum.
Meine typische Sitzposition: im Schneidersitz vor der sich drehenden Trommel.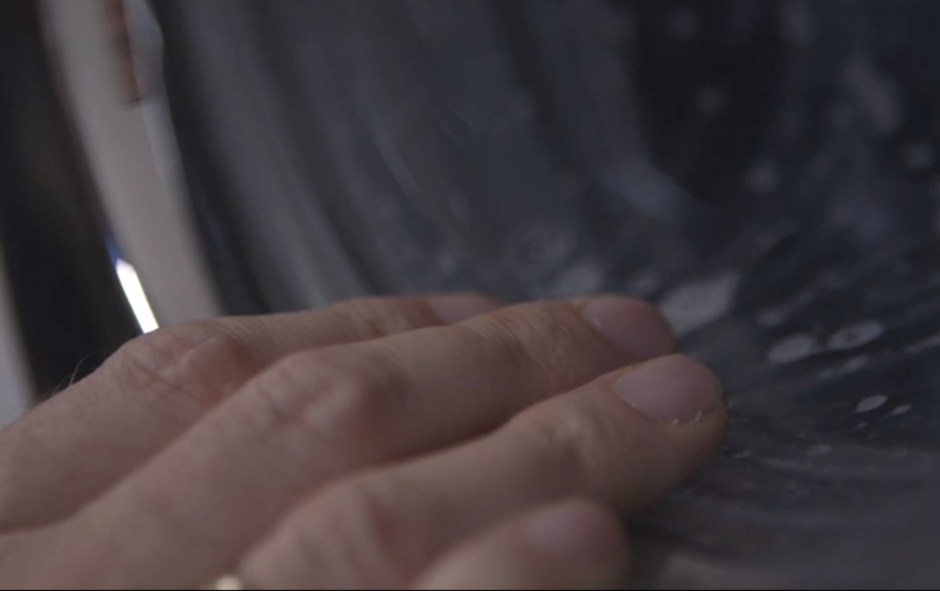 With the hand on the glass one can sense when a heavy LEGO sock falls from top to bottom in the drum.
Wenn man die Hand an das Bullauge legt, spürt man, wenn eine schwere LEGO-Socke in der Trommel von oben nach unten stürzt.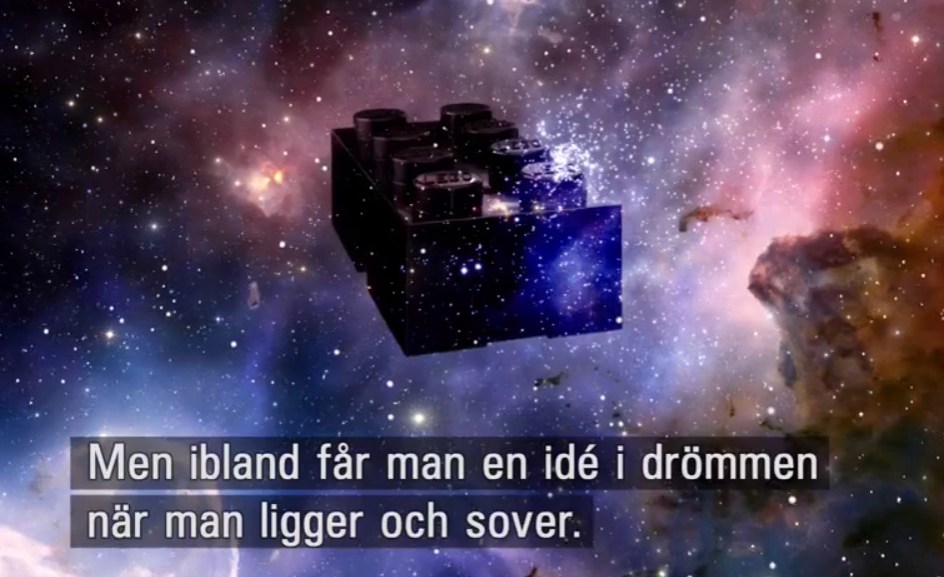 Do you remember a similar scene from Kubrick's movie classic "2001 - Odyssey in Space"? It became the background for my explanation how I see the LEGO washing as a help to understand models on the origin of terrestrial life.
Angelehnt an eine Szene aus Kubricks Filmklassiker "2001 - Odyssee im Weltall": der Hintergrund zu meiner Erklärung, wie ich das LEGO-Waschen als Hilfe beim Verstehen von Modellen zur Entstehung des irdischen Lebens sehe.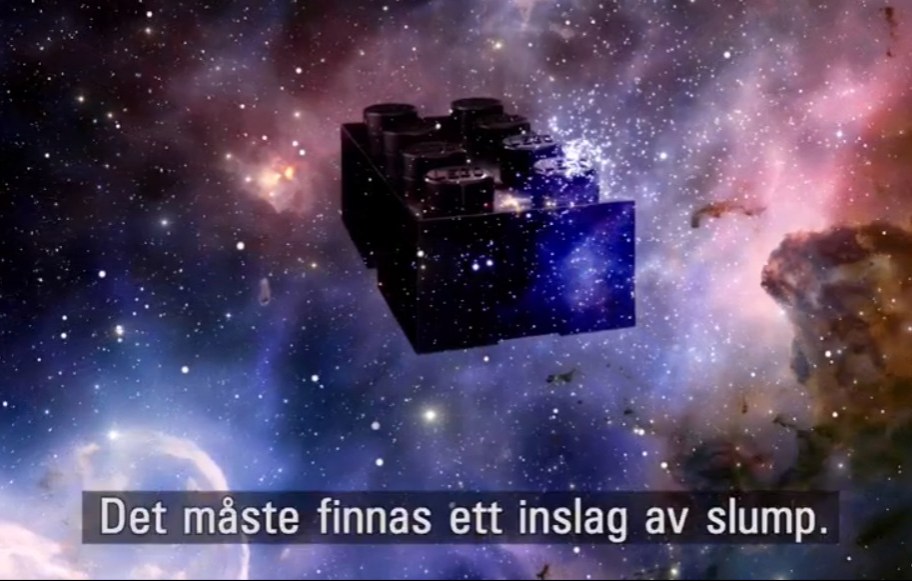 Chance ("slump" in Swedish) may have played a large role during the early stages of terrestrial life.
Der Zufall (schwedisch: "slump") hat wohl in der Frühphase des irdischen Lebens eine grosse Rolle gespielt.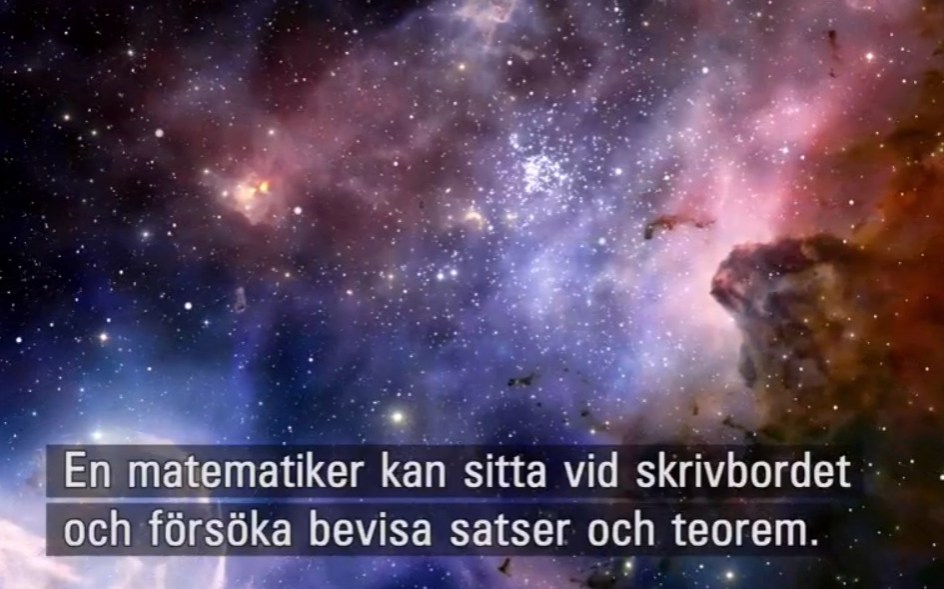 Sitting at a table with paper and pencil and proving theorems is only one possible working mode for a mathematician. Instead, he can also design and perform experiments. A machine for LEGO washing is a (primitive) analog Monte Carlo agent.
Ein Mathematiker hat eben nicht nur die eine Möglichkeit, am Schreibtisch mit Bleistift und Papier ein Theorem zu beweisen. Er kann auch Experimente machen. Die LEGO-waschende Maschine ist ein (primitiver) analoger Monte-Carlo-Agent.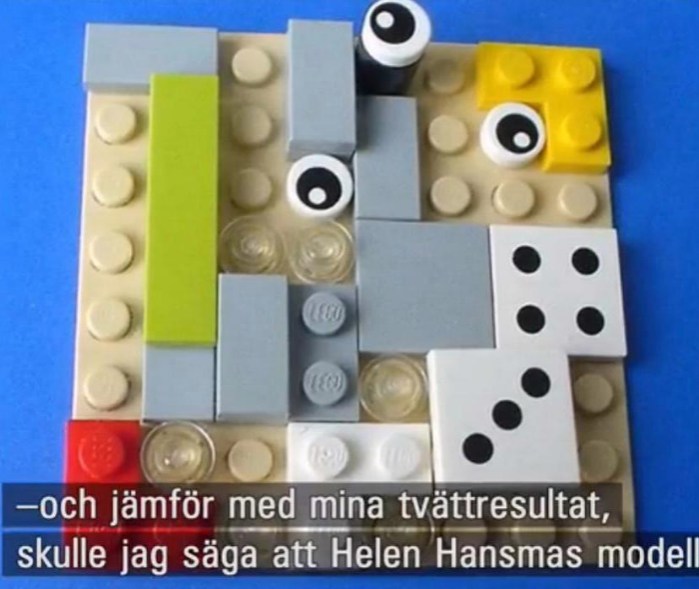 I do by far not know all models for the origins of terrestrial life. So far, most convinced has me the relatively new one by Helen Hansma. She believes that some central steps may have happened in thin water-leading slices between sheets of the mica mineral. In such environments pressure from outside (for instance by tides) may have provided energy for "the processes". That fits well with my observation that LEGO complexes form most easily at and between thin LEGO base plates.
Von allem mir bekannten Modellen zur Entstehung des irdischen Lebens hat mich bisher das von Helen Hansma am meisten überzeugt. Sie hält es für möglich, dass sich zentrale Schritte in d¨nnen wasserführenden Schichten in Glimmer-Mineralen passierte, wo auch Druck von aussen (z.B. durch Gezeiten) in Energie umgesetzt wurde. Das passt gut zu meiner Beobachtung, dass sich LEGO-Komplexe am besten zwischen dünnen LEGO-Platten bilden.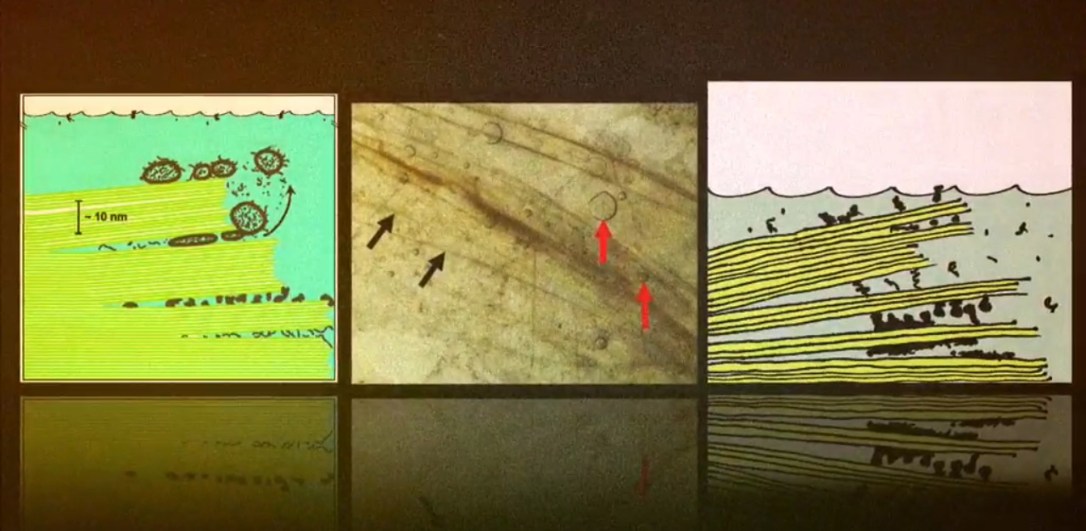 The report showed some of Helen Hansma's early drawings of mica sheets and protocells.
Im Report wurden an der Stelle einige von Helen Hansmas frühen Zeichnungen von Glimmer-Schichten und Protozellen gezeigt.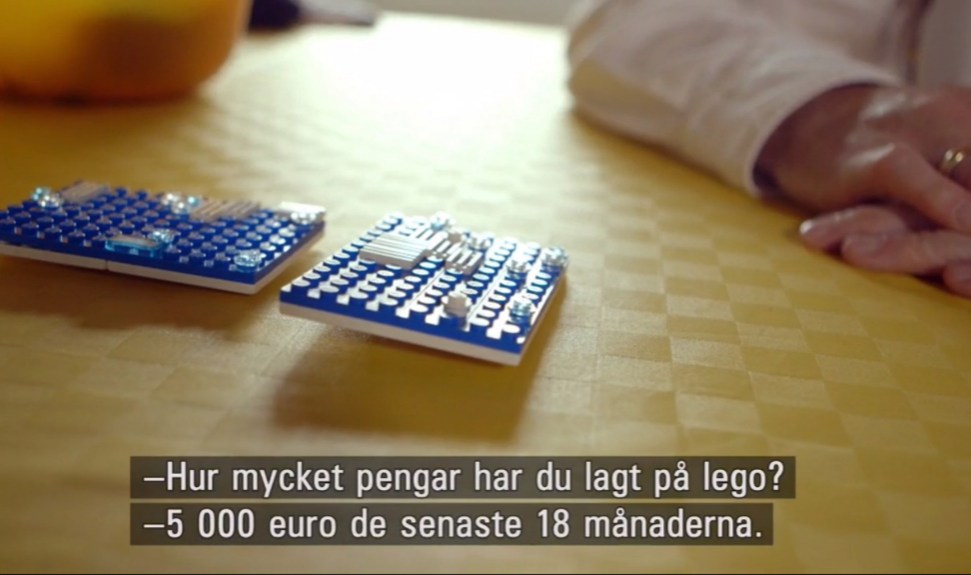 It took me by surprise when Johan asked how much money I had invested in LEGO (bricks). Although my wife was in ear distance I gave an honest answer: about 5,000 Euro in the last 18 months (May 2013 - November 2014).
In the photo two random complexes are seen which assembled in a sock with white and blue pieces. The idea with this sock came to me when Gabriella's song from the fantastic Swedish film "As it is in Heaven" ran through my mind.

Überrascht hat mich dann Johans Frage, wieviel Geld ich für LEGO(-Steine) ausgegeben hätte. Obwohl meine Frau in Hörweite war, gab ich ehrlich Auskunft: es waren etwa 5.000 Euro in den 18 Monaten von Mai 2013 bis November 2014.
Im Bild sind zwei Zufalls-Komplexe zu sehen, die in einer Socke mit weissen und blauen Steinen entstanden. Die Idee zu der Socke kam mir, als Gabriellas Lied aus dem tollen schwedischen Film "Wie im Himmel" durch meinen Kopf ging.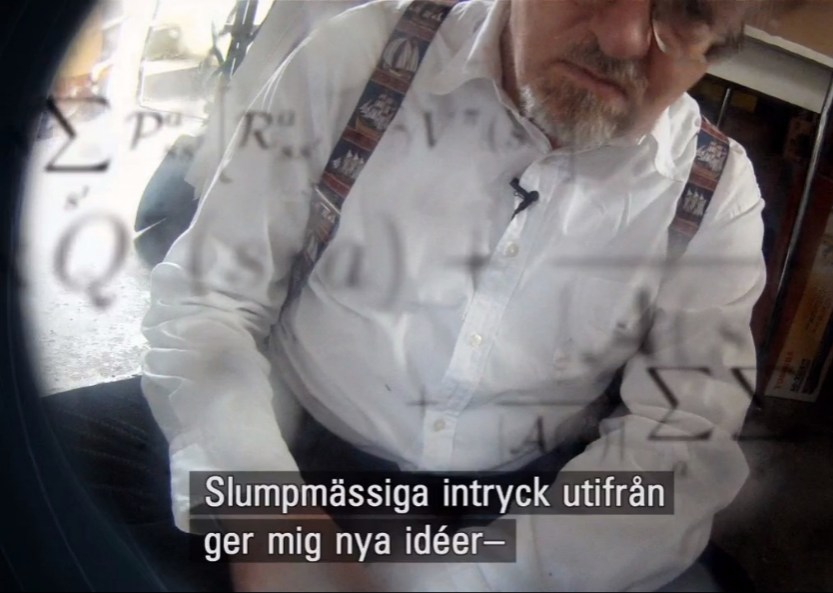 Near the end, one more glimpse through the bull's eye on my face was shown, now with formulas from stochastics as "super titles".
Kurz vor Ende wurde noch einmal ein Blick durch das Bullauge auf mich gezeigt, jetzt aber mit eingeblendeten Formeln aus der Wahrscheinlichkeits-Rechnung.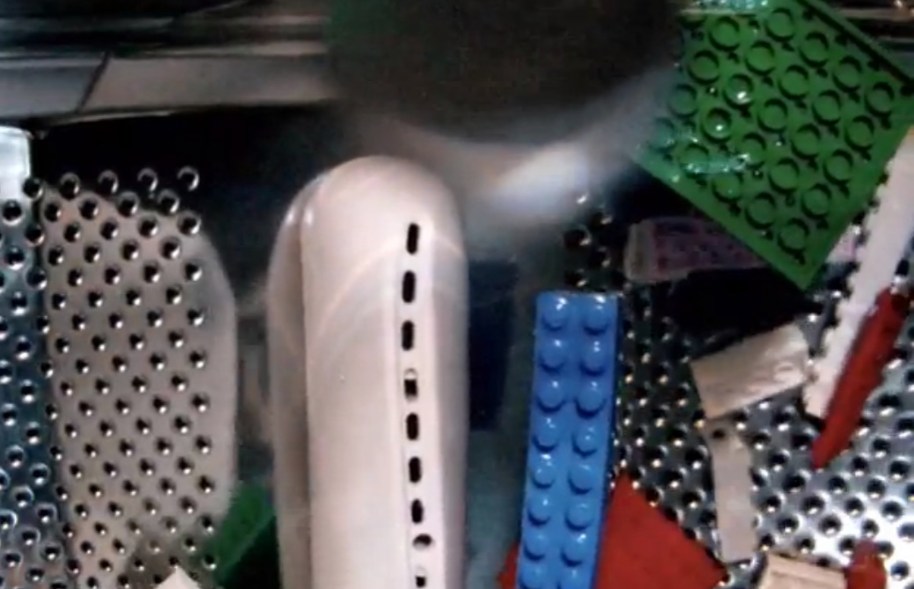 A still in the washing drum: with LEGO bricks drifting gently in shallow water.
Stillleben in der Waschtrommel: mit LEGO-Steinen, die sanft im flachen Wasser treiben.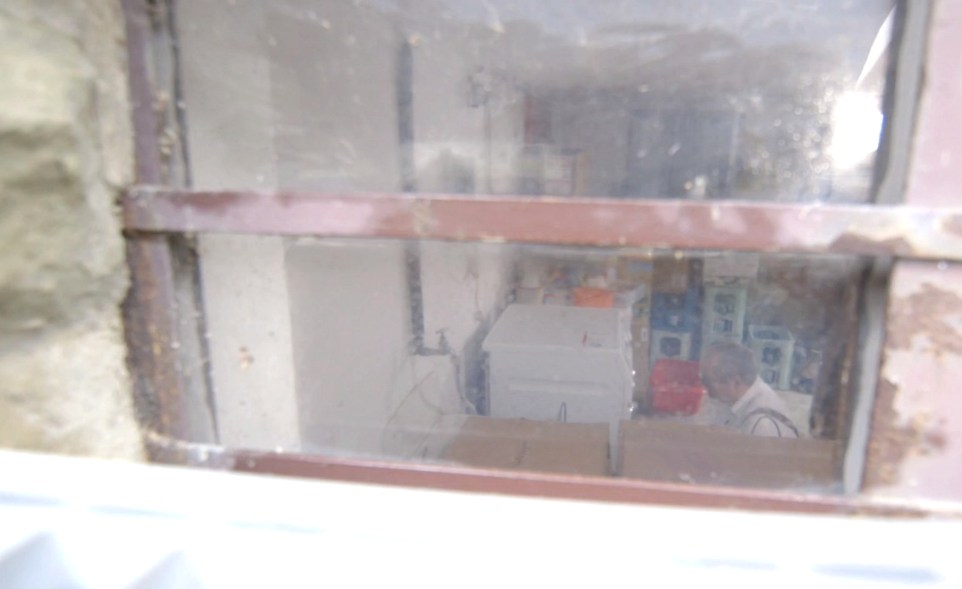 A shot through our cellar window - my wife could not believe that this would become a "reasonable" view.
Ein Blick durch das Kellerfenster - meine Frau hielt diese Einstellung für unmöglich.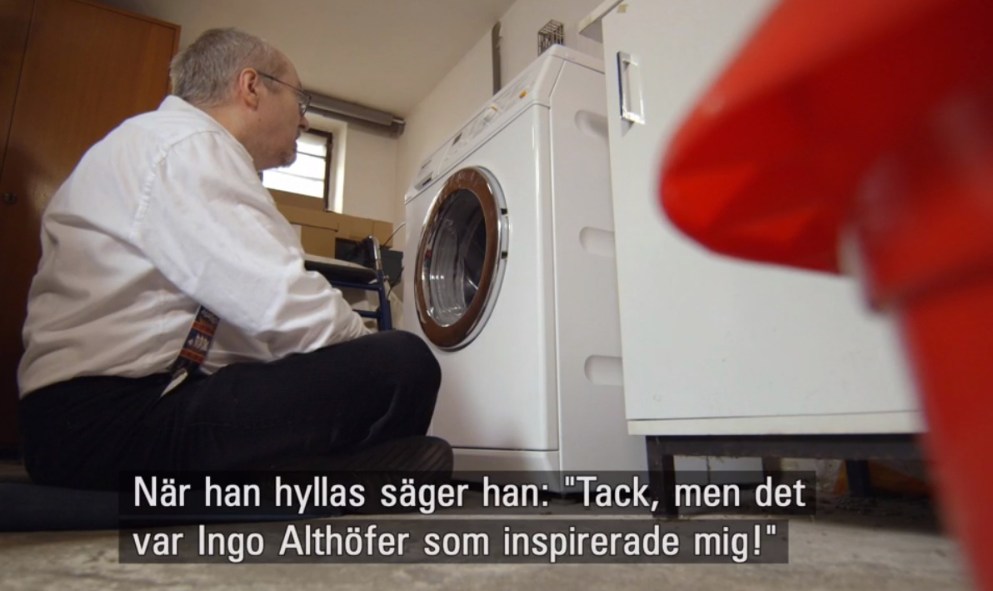 Meditation in front of the spinning drum. Who knows which open minds will one day be inspired by my LEGO washing sessions.
Meditation vor der Waschtrommel. Wer weiss, welche offenen Köpfe sich mal von meinen LEGO-Wasch-Experimenten inspirieren lassen.


Hier erlaube ich mir auch einen Hinweis auf einen Diskussions-Artikel von mir. Er ist in einfachem Englisch gehalten.
Here is a hint on my opinion paper Cycles and the Rhythm of Life


---
All my brick washing links - Alle meine Links zum Steine-Waschen
---
---