Match: Lee Sedol vs AlphaGo
Photo Report of the Lippstadt Session
Ingo Althofer, March 09, 2016
Between March 09 and March 15, 2016, a match between world class Go player Lee Sedol (South Korea) and computer program AlphaGo is played. I had the honour to follow game 1 together with family Dickhut and Andreas "Stones" Fecke in Lippstadt. Here are some pictorial impressions.

Ich hatte nicht genug Zeit, die Untertexte ins Deutsche zu übersetzen. Aber Google's Online-Translator kann (fast) alles:

Zwischen dem 09. März und 15. März 2016 , ein Spiel zwischen Weltklasse - Go-Spieler Lee Sedol ( Südkorea) und ein Computerprogramm AlphaGo wird abgespielt. Ich hatte die Ehre folgen Spiel 1 zusammen mit der Familie Dickhut und Andreas " Steine" Fecke in Lippstadt . Hier sind einige bildliche Eindrücke.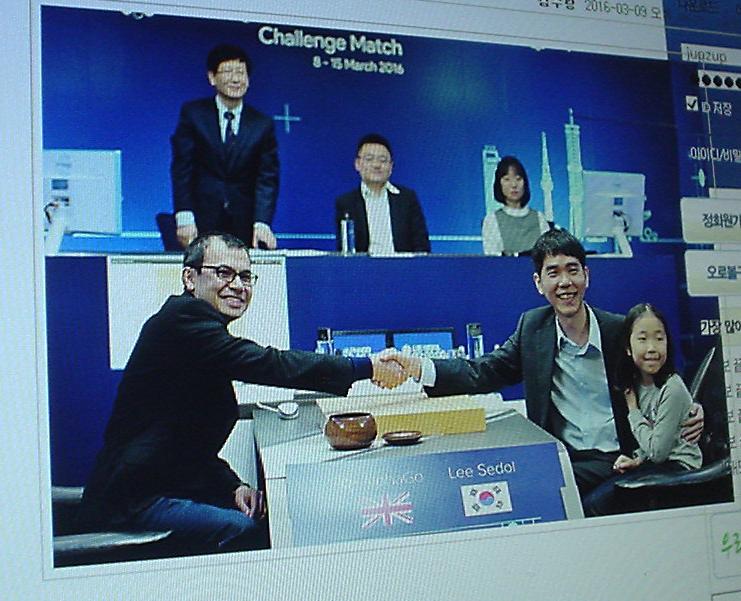 A screenshot, before things start. Demis Hassabis on the left side of the board. On the right is Lee Sedol with his daughter. Observe the Union Jack for AlphaGo. During the game, AlphaGo was operated by Aja Huang, former computer Go World Champion (2010 with his bot Erica) and member of the AlphaGo team. In this round Lee Sedol had the black stones.

Ein Screenshot , bevor die Dinge beginnen . Demis Hassabis auf der linken Seite des Brettes. Auf der rechten Seite ist Lee Sedol mit seiner Tochter . Beachten Sie die Union Jack für AlphaGo . Während des Spiels wurde AlphaGo betrieben von Aja Huang, gehen ehemalige Computer Weltmeister (2010 mit seinem bot Erica ) und Mitglied des AlphaGo Team . In dieser Runde hatte Lee Sedol die schwarzen Steine .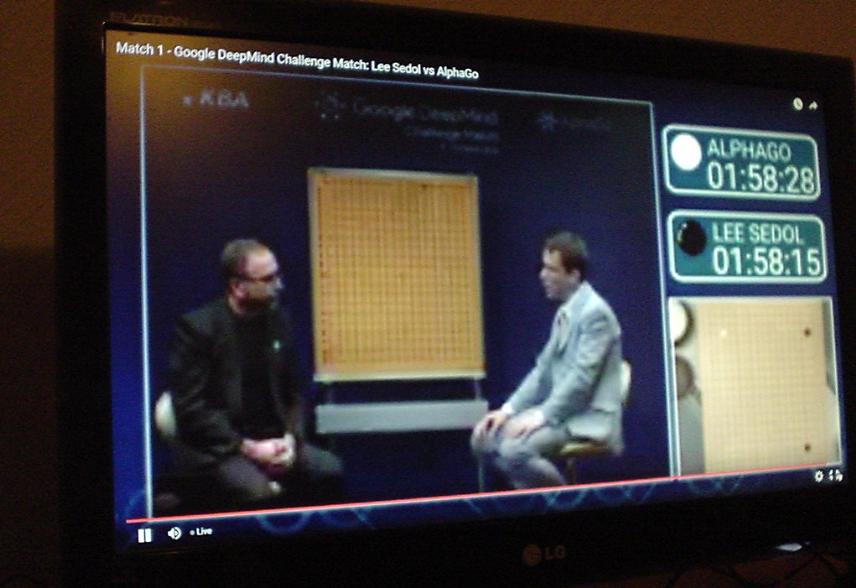 English commentary in the Youtube livestream was provided by Michael Redmond (on the right, the only 9p with traditional western roots).

Englisch Kommentar im Youtube Live-Stream zur Verfügung gestellt wurde von Michael Redmond ( auf der rechten Seite , die nur 9P mit traditionellen westlichen Wurzeln) .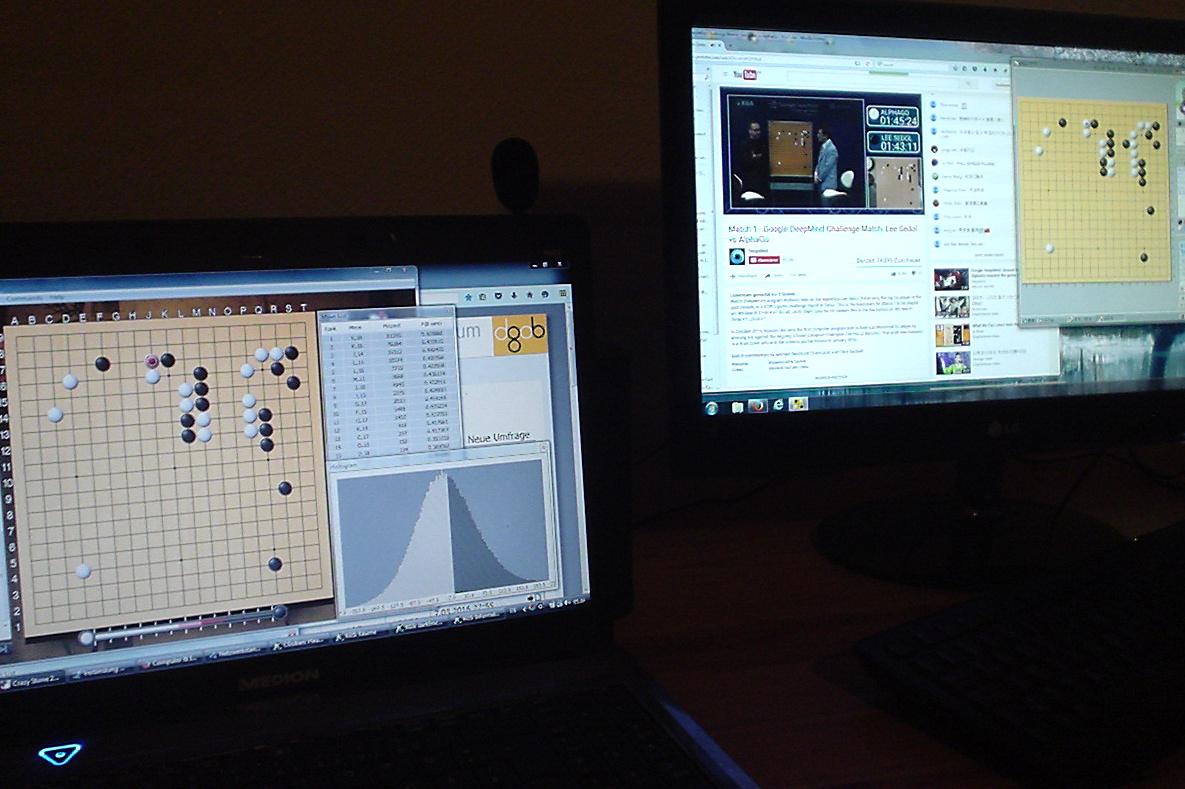 The picture shows our two monitors. The right one was for receiving the moves (from a Korean site) and the livestream. On the left the current analysis of bot Crazy Stones 2013 after move 30 is shown. The histogram gives the distribution of the playout scores: The white side is visibly larger than the black counterpart. Crazy Stone thinks that "brother" AlphaGo is already ahead. The "dgob"-logo belongs to the very informative website of the German Go Federation (Deutscher-GO-Bund).

Das Bild zeigt unsere zwei Monitore. Die richtige war für die Züge empfangen (Von einer koreanischen Seite ) und der Live-Stream . Auf der linken Seite der aktuellen Analyse von Bot Verrückte Stones 2013 nach 30 bewegen gezeigt. Das Histogramm gibt Die Verteilung der Playout- Noten : Die weisse Seite ist sichtbar grösser als das schwarze Pendant. Crazy Stone denkt, dass "Bruder" AlphaGo schon voraus ist . Die " DGOB " -Logo gehört zu den sehr informativen Website des Deutschen Go Federation (Deutscher -GO- Bund) .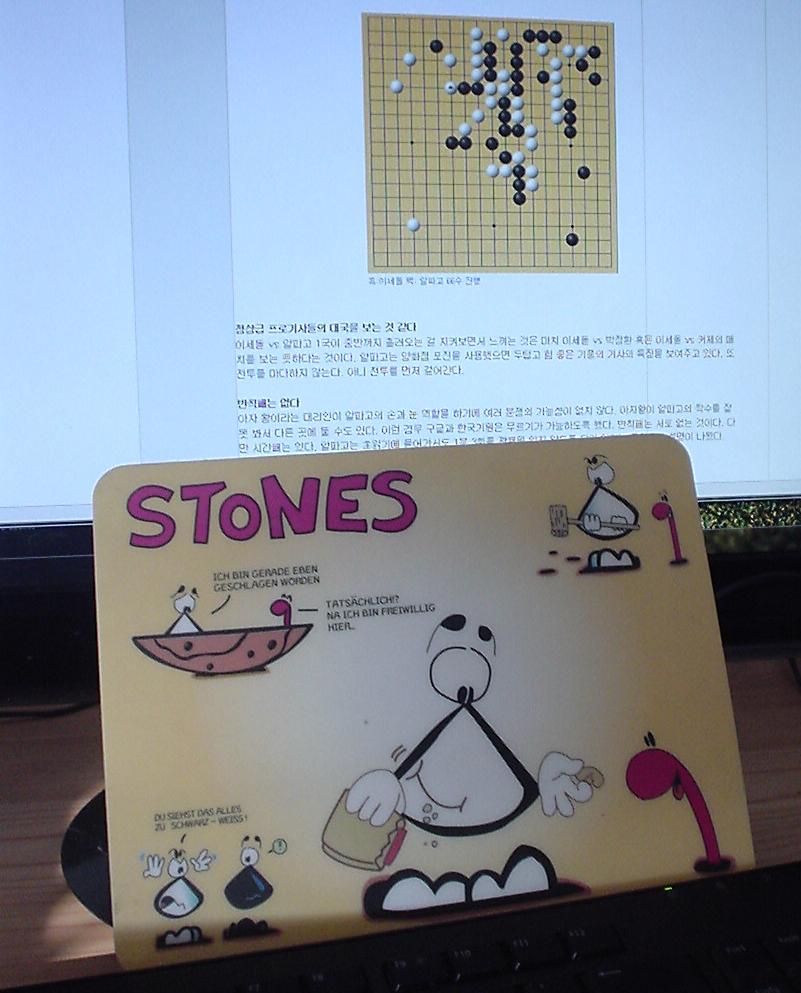 On the screen a Korean transmission site with commentary in Korean language. Luckily, FJ is fluent in spoken and written Korean. Below you see the nice mouse pad with motives from the Stones Comics.

Auf dem Bildschirm eine koreanische Übertragungs Website mit Kommentaren in Koreanische Sprache. Zum Glück ist FJ fließend in Wort und Schrift Koreanisch. Unten sehen Sie die nette Maus-Pad mit Motiven aus den Steinen Comics zu sehen.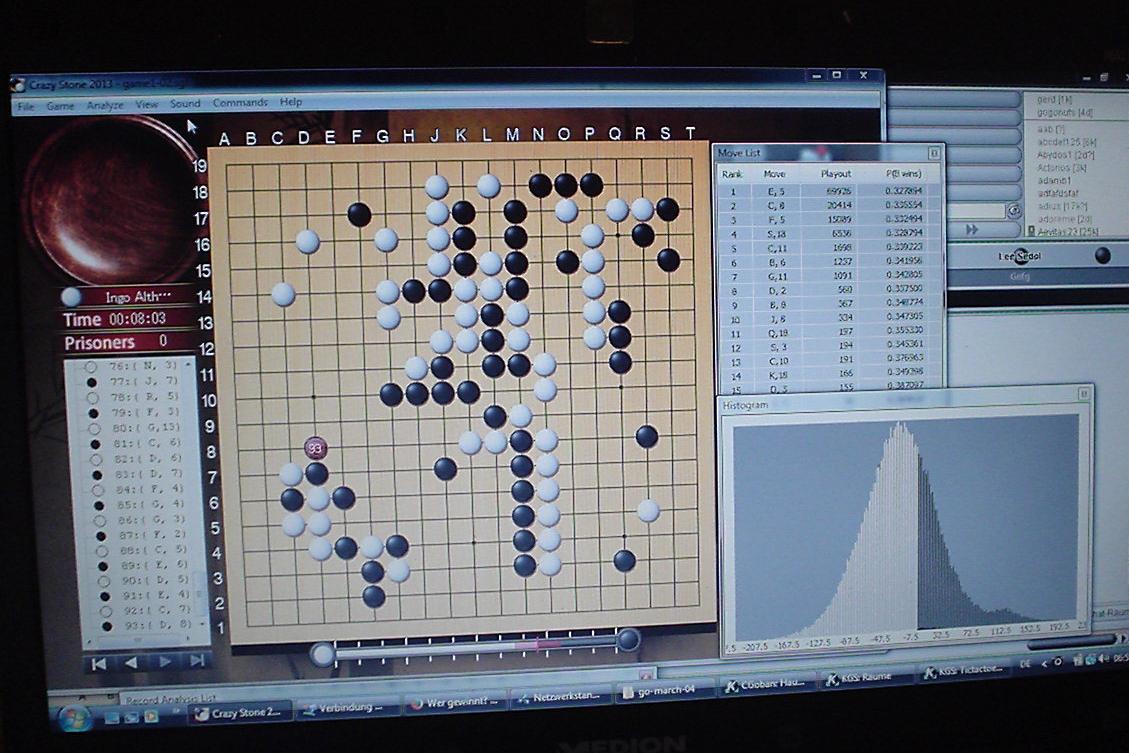 The screen shows CS analysis after move 93 of the game. Crazy Stone gives Lee Sedol a mere 33 % in this moment.

Der Bildschirm zeigt CS -Analyse nach Bewegung 93 des Spiels. Crazy Stone gibt Lee Sedol eine blosse 33% in diesem Moment.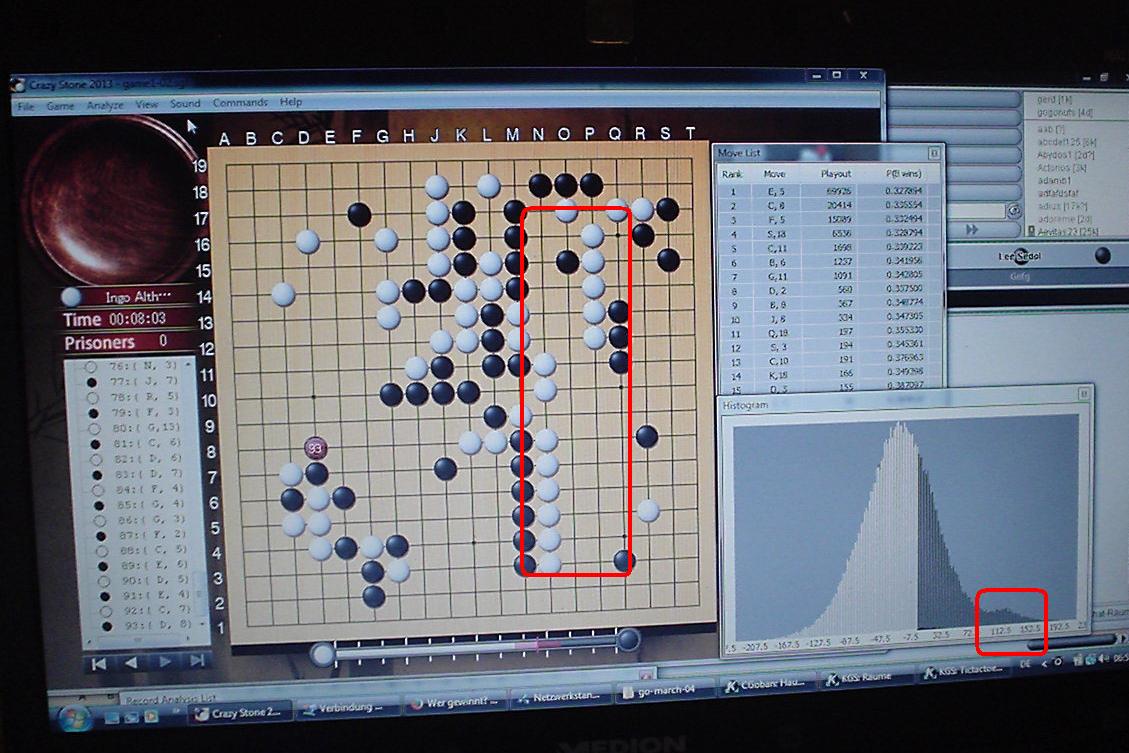 The same photo, with some marks in red. We asked ourselves where the little black para hill in the histogram stems from. One possible explanation: The large white group marked in red is in some danger to be killed. However, the group survived...

Das gleiche Foto , mit einigen Markierungen in rot. Wir fragten uns , wo die kleine schwarze para Hügel im Histogramm ergibt sich aus . Eine mögliche Erklärung : Die große weisse Gruppe in rot markiert ist in Gefahr , getötet zu werden . Aber, die Gruppe überlebt ...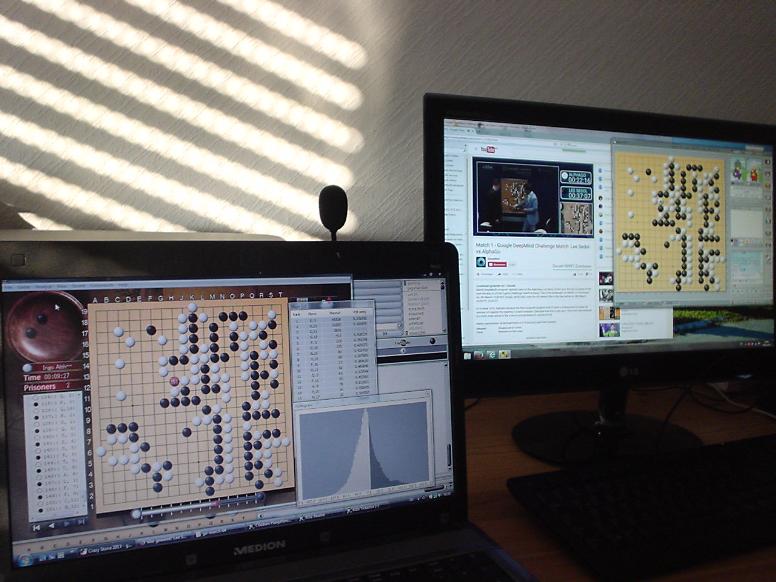 In central European time, the game had started at 5:00 am. At some point after two thirds of the game the rising sun drew beautiful patterns on the wall.

In mitteleuropäischen Zeit war das Spiel um 05.00 Uhr gestartet. An einem gewissen Punkt nach zwei Dritteln des Spiels zog die aufgehende Sonne schöne Muster an der Wand.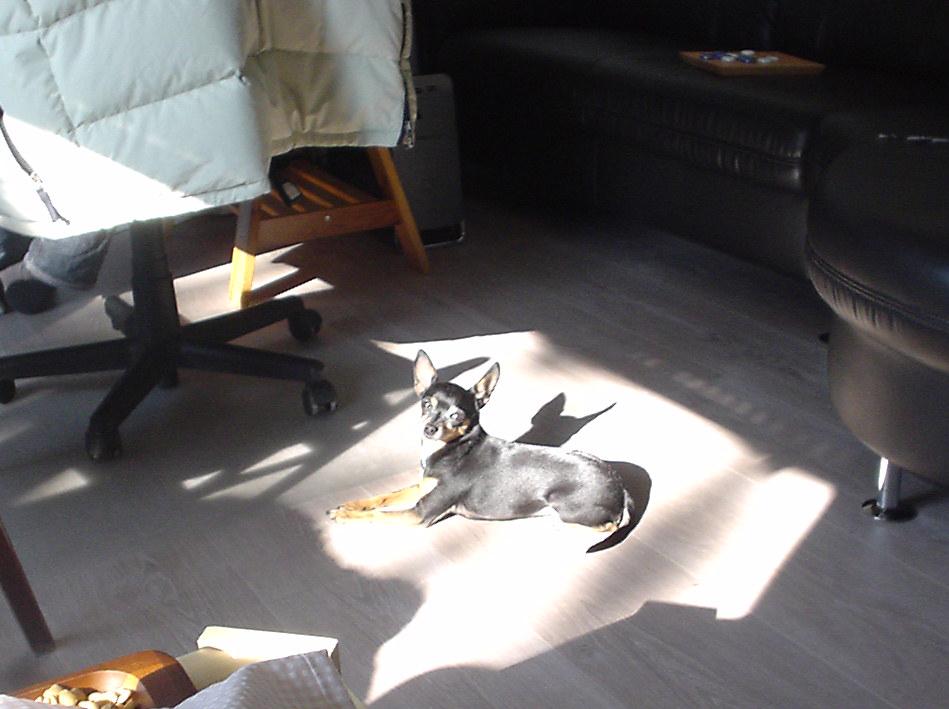 Dickhut's vivid watchdog. Missing size is fully compensated by intense noise.

Dickhut des lebendigen Watchdog . Fehlende Grössen völlig kompensiert ist von starkem Lärm .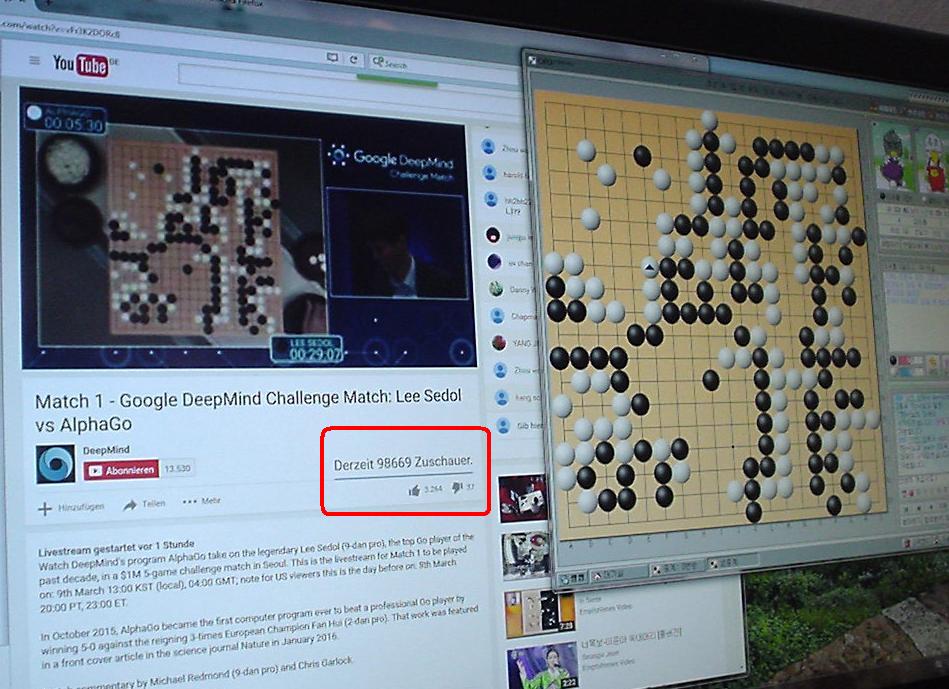 Near the end of the game almost 100,000 spectators were watching the livestream on Youtube.

Kurz vor dem Ende des Spiels fast 100.000 Zuschauer sahen die Live-Stream auf Youtube .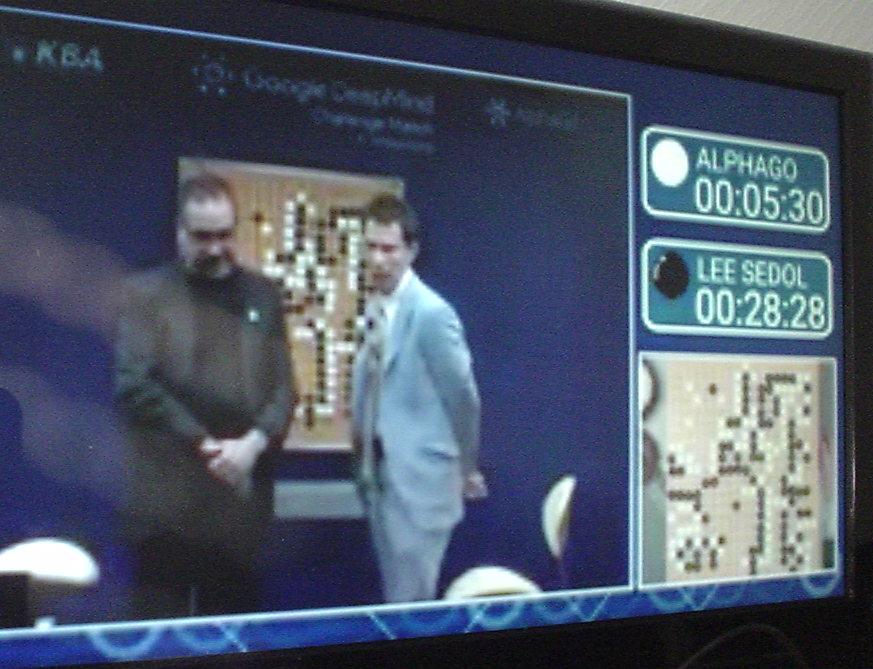 Right after Lee Sedol's resignation the commentators stood there in a moment of silent meditation.

Gleich nach Lee Sedol Rücktritt die Kommentatoren stand da in einem Moment der stille Meditation .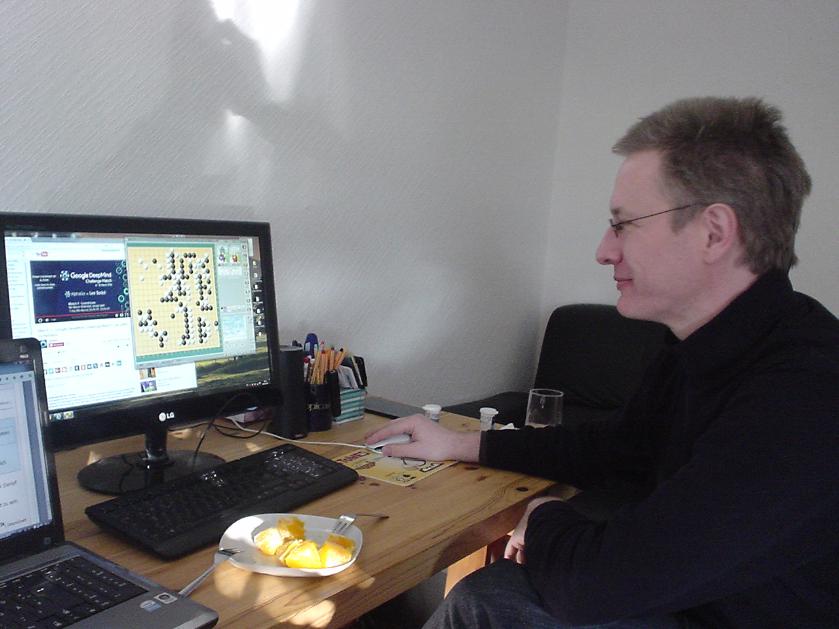 FJ Dickhut analysing one of the crucial moments.

FJ Dickhut einer der entscheidenden Momente zu analysieren.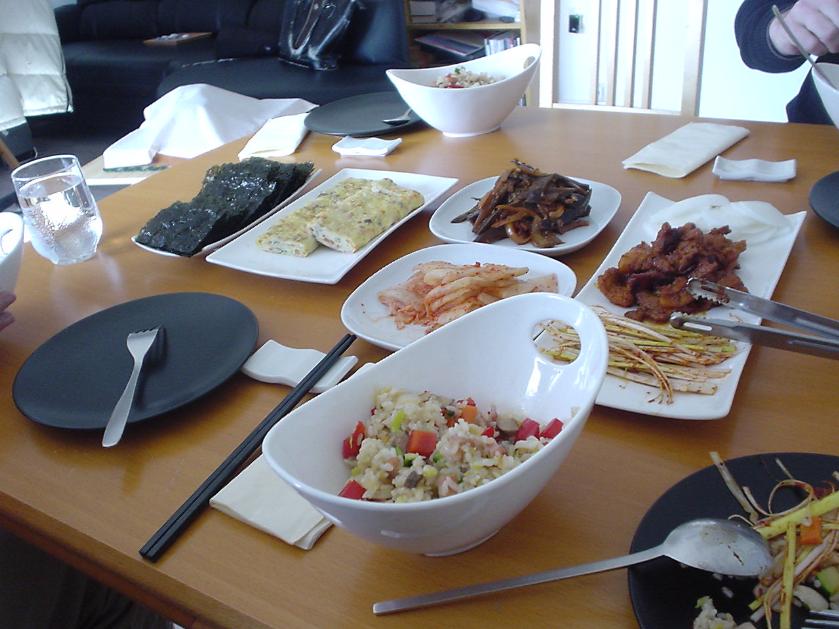 Game over and analysis finished. But the best was still to come: a fresh and delicious Korean lunch. Thanks a lot to Madam Dickhut!

Spiel vorbei und Analyse beendet . Aber das Beste sollte noch kommen : eine frische und leckere koreanische Mittagessen. Vielen Dank an Frau Dickhut !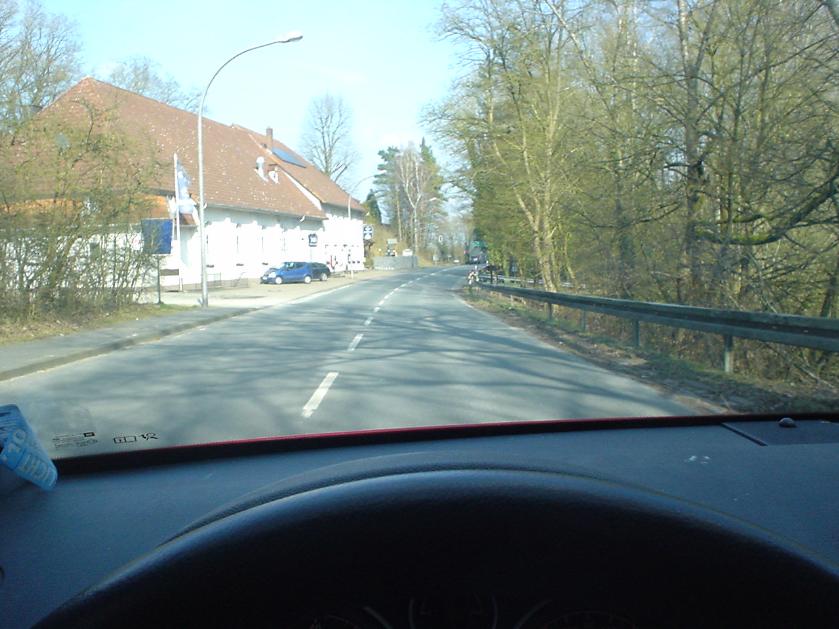 An impression from the sunny homeride.

Ein Eindruck von der sonnigen homeride .


---


Die Google-Übersetzung ist ungefähr okay. Aber ich glaube, beim Computer-Go ist Google besser! ;-)

The Google translation is about okay . But I believe that the computer -Go Google is better ! ;-)



---
---