Primble
Es gibt viele Spiele, bei denen man Worte aus Buchstaben-Plättchen legt. So schön diese Spiele sind, sie sind leider nicht wirklich international: Muttersprachler haben stets einen klaren Vorteil.
There exist many games, where words are built from letter tiles. These games are nice, but have the serious disadvantage to be not really international: Players with mother tongue have a clear advantage.
Schon vor einigen Jahren (genauer im Jahr 2002) hat Thomas Rolle, ein damaliger Informatik-Diplomand von mir, ein ähnliches, aber wirklich internationales Spiel programmiert, bei dem nicht Worte in einer Schriftsprache, sondern Primzahlen zu legen sind. Als Namen wählten wir "Primble". Spielt man Primble gegen den Computer, lernt man übrigens auf ganz natürliche Weise, wieviele Primzahlen es gibt ;-)
Already some years ago (in 2002) Thomas Rolle, who was a diploma student of mine in computer science, had programmed a similar but truely international game where not words in some written language but prime numbers have to be placed. Our name for this game is "Primble". Playing Primble against a computer opponent teaches you very naturally (and quickly) how many primes there are ;-)
Das Bild zeigt sechs typische Stellungen aus Primble-Partien mit dem Computer. In diesen Partien war der Computer so eingestellt worden, dass er keine Primzahlen mit mehr als 7 Dezimalstellne generierte.
The picture shows six typical positions from Primble games with the computer. In these games the computer was adjusted not to build primes with more than seven decimals.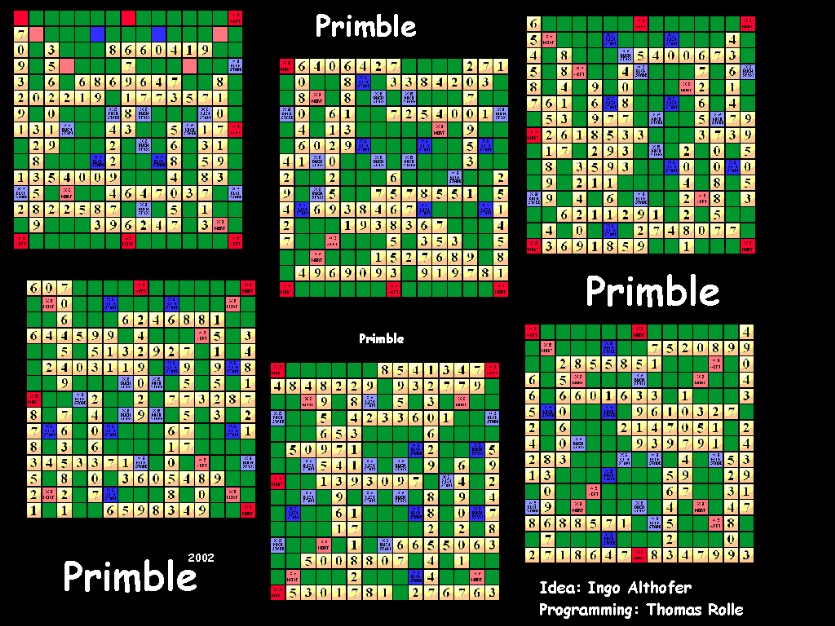 Primble Positions
---
Back to the main site of Ingo Althofer - Zurück zur Hauptseite